During the week of a recent exhibition I was able to run several workshops to engage children with the issues surrounding beach waste.
Using this photograph 'Cornwall Today' advertised the event, and reviewed the exhibition.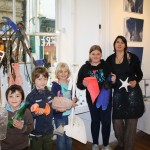 The use of beach waste and issues of polluting the oceans became a focal point which many members of the public were engaged with and locally were quite knowledgeable. 
Some people felt it was a current issue that the local community should be directly involved with – due to its location and also being a tourist destination located in the coastal town of Falmouth.  Many children engaged with the ideas of beach pollution – often children were the ones that spoke most profoundly – one child said: "The people of the world should not use the environment as a rubbish dump, and everything should be reused with one-use products removed".
Posted on: April 2013